TEACHERS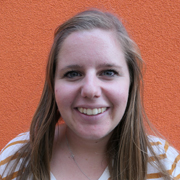 Alexandria Vogl
Hello! I am Alexandria Vogl and I come from sunny California in the United States and am one of the school's native English speakers. I completed my Bachelor's degree in Humanities with a special concentration in English, Art History, and History. I also have a Master's Degree in Student Development and University Management.
I have lived in the Czech Republic since 2018. During my first year I worked as a senior teacher at a preschool and led afternoon English lessons for children aged 6-13. Before I came to the Czech Republic, I worked at an American university where I taught an introductory college course and worked as an Academic Advisor. Education has always been an important part of my life and something that I put great emphasis on.
I enjoy working with children and I hope to make school a place where children look forward to coming to every day. In my free time I like to explore Prague, go hiking and visit local museums. With great enthusiasm as an educator, I try to grow professionally and instill a love for learning in my students!
Do you have any questions or want to know more? You can reach me by email at: This email address is being protected from spambots. You need JavaScript enabled to view it..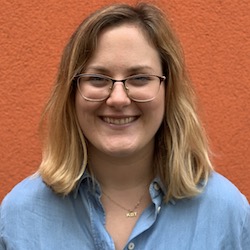 Kate Tremewan
Hello! My name is Kate Tremewan. I am from California (yes, the same state Alex is from!) in the United States of America, and am the another one school's native English speakers. I grew up living in multiple states and countries which inspired my educational and professional journey as a teacher. My degree is in English with certification in Teaching English as a Foreign Language.
I have lived in Prague since 2017. During my time here, I have worked as a preschool teacher and English teacher to primary students. With a pension for storytelling and creativity, I encourage all students to follow their academic curiosity in all the different roads that are in front of them.
Do you have any questions or want to know more? You can reach me by email at: This email address is being protected from spambots. You need JavaScript enabled to view it..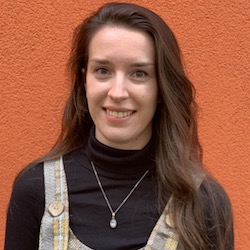 Emily Daniel
Hello everyone! I am Emily Daniel and I come from the UK. I graduated from the University of Stirling with a Bachelor's degree in Film & Media and History. I previously worked as an Au Pair for a Czech family in Prague, so I understand basic Czech and have experience working with children who are kinaesthetic and visual learners.
My hobbies include painting, crochet, bullet journalling, and yoga. I also play the flute to ABRSM Grade 8 standard, the piano to Grade 3 standard, and I am qualified in Grade 5 Music Theory. In my spare time, I like going to Jiřího z Poděbrad Square to paint, journal, and meet my friends. I love working with children and wholeheartedly believe they can teach us as much about ourselves and the world as we can teach them.
Do you have any questions or want to know more? You can reach me by email at:
This email address is being protected from spambots. You need JavaScript enabled to view it.
.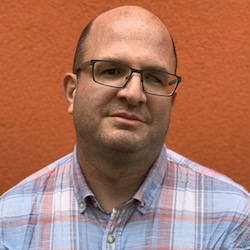 Nicholas Doyon
Hi guys, I'm Nick from Providence, Rhode Island, the smallest of states in the United States. I was a teacher for 7 years in San Antonio Texas before coming to Czechia to coach basketball. Since my first year of coaching basketball here, I have focused on teaching English, mainly Cambridge exam preparation to 19-21 year olds.
In my free time, I love to travel, I have been to 35 countries and 26 of the states in the US, with Panama and the Greek Islands being my favorite places. I also have a 300 liter aquarium full of marine fish at my flat which is great for relaxation.
Also, in the summer, my girlfriend and I run an English camp in her village near Hradec Kralove, this summer we had a total of 50 students from ages 5-12 for the two weeks we organized the camps. In the future, we are looking to expand our camps to overnight camps in the Krkonoše mountains. Having fun while learning is extremely important to me and I will do my best to make sure your kids are doing exactly that.
Do you have any questions or want to know more? You can reach me by email at:
This email address is being protected from spambots. You need JavaScript enabled to view it.
.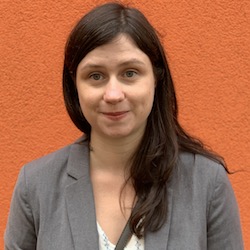 Lenka Staňková
Hi, my name is Lenka Stankova. I am from about three hours South/East of Prague. I studied Primary Education in Pilsen, after which I went to Prague and taught as a class teacher in primary schools for three years.
I have taught all grades within elementary school and have experience in both traditional and Montessori style classrooms. I try to incorporate the best of both styles into my classroom. One of my hobbies is building escape games for children. I also really enjoy swimming, liking, music and reading. I hope that all students will like school and learn everything they need to be successful in their future life journeys.
Do you have any questions or want to know more? You can reach me by email at: This email address is being protected from spambots. You need JavaScript enabled to view it.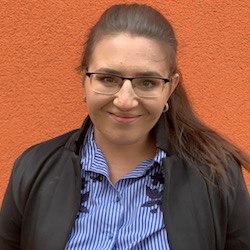 Barbora Hilská
Hello!
My name is Barbora Hilská, from Prague, and this is my first school year at Anglofonní Elementary School! I graduated with a degree in Preschool and Extracurricular Pedagogy and for the last four year I have been working as an educator and elementary school teacher in a state elementary school.
I enjoy and am fulfilled by my work with children and I intend to further develop my skills and education around this topic.
My leisure activities include music, singing, theatre, reading, fine arts and many other activities. I have developed my hobby of singing and music into a job working as a vocalist in a band. I have also spent eight years studying solo singing and have won awards in various music competitions.
Do you have any questions or want to know more? You can reach me by email at: This email address is being protected from spambots. You need JavaScript enabled to view it..
Ing. Katarína Dvořáková
I was born in Vranov nad Topľou, where I graduated from high school of economics. I received my degree at the Slovak University of Agriculture in 2008, where I studied Garden and Landscape Architecture. My studies reflected my talents for mathematics, artistic creation and love for the environment.
From 2015, I am the Chairperson of the Administrative Council at the founder of the school. In 2018, I took a teaching assistant course and started to perform this position at Anglofonní základní škola. At present I support learners at lessons of Czech language, mathematics, primary science and other subjects.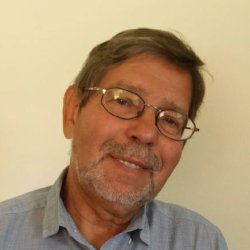 Hi everyone, my name is Nikolaj Hladík and I am one of the school's directors. I graduated from the Faculty of Education at Hradec Králové and graduated from the Management Study for Managers program at the Faculty of Education in Prague. I have also worked as a teacher myself, teaching mathematics and physics.
I have a close relationship with English because my daughter married someone from Great Britain and is raising my grandson there. I try to make use of my lifelong work with children, management of teachers, and school management here at our school.
Do you have any questions or want to know more? You can reach me by email at: This email address is being protected from spambots. You need JavaScript enabled to view it.z.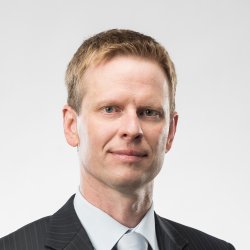 JUDR. MGR. ZDENĚK DVOŘÁK, PH.D
Greetings! My name is Zdeněk Dvořák and I am the founder and director of our school. I graduated from the Faculty of Law at Charles University and also received a degree in Psychology from the Faculty of Arts at Masarykovy University. In addition, I have completed two years of study at the University of Wales. Since 2008 I have worked at a foreign multinational company and I have experienced daily contact with foreign colleagues.
My family and I contemplated moving to the UK with our two sons for work and better educational opportunities. In the end we stayed in Prague and decided to start Anglofonni Elementary School. Thanks to my graduate degree in psychology I developed an interest in education. My experience practicing law has made it easier for me to fulfill the legal and administrative requirements associated with establishing and operating a school.
Do you have any questions or want to know more? You can reach me by email at: This email address is being protected from spambots. You need JavaScript enabled to view it..